"Whose Values Shall Rule?" is a commentary by Dr. William Pierce which appeared in the National Alliance Bulletin of June, 1980.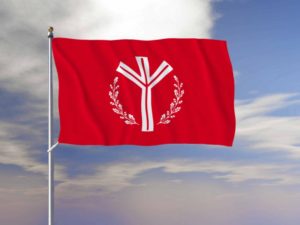 Dr. Pierce addressed a meeting of the Ridgewood Group, at the Estonian House in New York City, on May 27. He had been asked to speak especially about his book, The Turner Diaries (for which the nom de plume Andrew Macdonald was used). He spoke for about 45 minutes, first pointing out that the purpose of the book is neither to entertain nor to present a plan for a revolution. The book, he said, is intended solely to serve as a medium for certain ideas, some expressed implicitly and others explicitly. Those ideas deal with human behavior, motivation, and values. The following material has been excerpted from the latter portion of Dr. Pierce's New York address:
* * *
Whose Values Shall Rule?

by Dr. William Pierce
IT IS IMPORTANT for us to understand that one person is not a Methodist and another a Catholic and a third a Marxist as the result of any rational process -- at least, not in the vast majority of cases, although there are individual exceptions.
That is, one is not a Methodist because one sat down and studied the Methodist doctrine, compared it with other doctrines, and decided that Methodism was what made the most sense. One is a Methodist, generally, because one's parents and neighbors were -- that is, out of an entirely unreasoning desire to conform, to believe what one perceives that one is expected to believe. John Wesley undoubtedly was an exception to this rule, but very few other Methodists have been.
There has been strong resistance to accepting the implications of this important facet of human behavior. People seem to want to believe that we are all quite rational, when most of us aren't. For our purposes, the implication of the fact that most people are governed far more by herd instinct than by reason is this: Insofar as the general public is concerned, truth cannot fight its own battles. As long as Norman Lear, the Jewish television producer, has more kilowatts for reaching the public than we do, it will be his view of history and, more important, his view of what is moral rather than ours which will be generally accepted and which will govern the political process.
This means that we can realistically expect our educational efforts to be effective with only a rather small minority of our fellow citizens. We cannot expect to make a partisan for our cause out of the average man or woman who perceives, even unconsciously, that our cause is not popular, no matter how many books or leaflets we may coax that person into reading. We win only two types of people: One is the person who is already alienated to a certain extent from Mr. Lear's world and does not fully feel himself a part of the herd to which Mr. Lear is preaching with his cleverly designed television sermons. Unfortunately, in many cases people are alienated for reasons which are entirely or partly wrong from our point of view. That is why protest movements and revolutionary movements always pick up lots of defective people. On the other hand, alienation is certain to remain a growth industry, as they say, and one can hope to see many more essentially healthy people becoming alienated from the mainstream in the years ahead.
The second type of person we are able to win with an educational effort at this time is the person who is one of those rare exceptions to the general rule, a person who is strongly motivated by ideas as well as by instinct, and who has already been groping in our direction. Our effect with such a person is primarily to help him clarify his ideas and to lead him more rapidly to their logical conclusions.