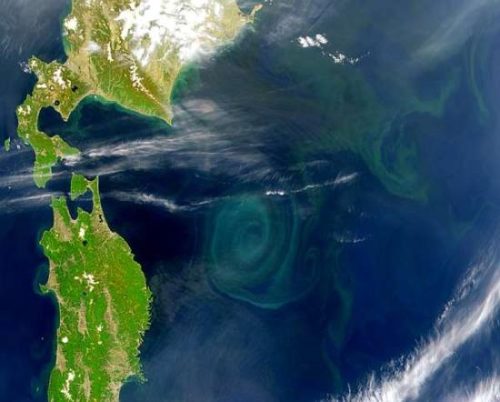 Environmental quality, resources threatened by failing economy
by Dr. William L. Pierce
DURING 1981 the real spendable earnings of the average American wage earner fell another 3.3 percent, the Bureau of Labor Statistics in Washington announced on January 22. Of all the economic statistics monitored by the government — consumer price index, average hourly wages, etc. — the real spendable earnings figure is the one which is tied most directly to the average standard of living. It is the amount of 
real
 money (i.e., money adjusted for inflation) a wage earner has left to spend after taxes. (ILLUSTRATION: A satellite image of the "Great Pacific Garbage Patch" that has expanded to twice the size of the continental United States. It is mostly made up plastic, the inevitable consequence of growing populations and unchecked mass production. This waste, what is left over from largely needless items used by an increasingly degenerate and low quality population, is thrown away with no sense of responsibility for the consequences.)
When we consider non-economic factors, however, we must anticipate a much worse decline in the American living standard than indicated by the falling figure for real spendable earnings.
The crime rate is an example of a non-economic factor which has a strong effect on the standard of living — or quality of life — of the average American. Each year the average U.S. citizen's chances of being murdered, raped, robbed, or burgled increase. That costs everyone money, whether he is a crime victim or not, in higher taxes for police protection and in higher insurance rates. The non-monetary costs, though, are far higher, as fear of crime increasingly hedges in the average American's life and restricts his activities.
Disease is another example. Until quite recently, the United States could boast one of the lowest disease rates in the world, with the rate for most infectious diseases continuing to fall each year. Many dread afflictions common in other parts of the world had been virtually eradicated here. This was one of the benefits of an enormous investment over the years in sanitation, inoculation drives, and other public health programs.